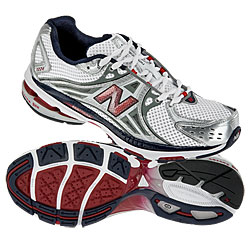 New Balance is a shoe company well known for classic running shoes. Of course they have many many other options from crosstraining, hiking, and selections of dress casual shoes in their retail locations.
I picked up the New Balance 1224 Running shoe in June of 2009, at the New Balance Retail store in Raleigh. Located on Glenwood Ave. a few miles from Crabtree Vally Mall Raleigh NC. CLICK HERE for a Google Map. The staff at the New Balance were very helpfull. I do assume they earn commission.
The other very important thing is New Balance is allegedly MADE IN THE USA. Or at least 25% so says their advertising. This fact can make one feel much better about dropping $100-150 for a pair of these running shoes.
All in All. The 1224 is a great running shoe, Very suportive, durable and light!