Posted on
Thursday, November 19, 2009
in
Review
I had a blind date and I'd found the perfect dress to wear on my night out on the town. Now I needed the perfect pair of shoes!
I took the dress to several stores and after trying on TONS of flats, pumps, mules, heels etc., I decided that what I needed was a really nice pair of dressy boots. I decided on a pair of brown heel boots, without buckles or fur… just nice, brown leather boots with a sexy heel.  Let the search begin!!!
I started off at the Target at Triangle Town Center. They had a few pairs of nice boots, but mostly lower walking boots, climbing or hiking boots, or boots with a nice heel but all the buckles and zippers that made them look like Houdini would have a hard time getting in or out of. The prices were reasonable, however. They just didn't have the style I wanted or needed.
My next stop was Stein Mart on Creedmoor Road. By now my best friend Alea had joined me in my search so we headed back to the shoe department. I was pretty excited to see quite a bit more styles than I had at Target! We grabbed up a few pairs in my size and got down to business. The boots were on sale at half price, so I thought I'd find a great deal for sure. Unfortunately, the boots in my size felt a size too small, and on 4 of 5 pairs I tried on, the left boot felt smaller than the right boot and wouldn't zip up all the way. I was disappointed but still had a few other places to try out.
We headed to Marshall's on Glenwood Avenue. I'd found a few cute shirts here before and several of my friends recommended it as a great shopping spot. We headed straight to the shoe department and then turned right around. The only pair of boots they had were black suede type boots with laces going from top to bottom on both sides of the boot.
Off to DSW near Triangle Town Center. Another problem with the way the boots fit. I enlisted Alea's help and together we tugged, pulled, pushed, shoved and put all of our energy into getting the left boot to zip up. By now I was starting to be paranoid that my left leg was just fatter than the other, but the sales girl said that it wasn't uncommon for one boot to be a little different than the other. Sigh.
Traffic was picking up by now so I decided to call it a night. On my way home I had a brilliant idea: there was a shoe warehouse not too far from where I lived. I decided to stop in at the SRI Shoes on Oak Forest Drive. I walked in and felt like I was in shoe heaven! I walked over to the boot AISLE and started picking out a few pairs of boots to try on. They were nice, slightly more expensive than the other stores I'd visited, but these seemed higher quality and were really only about $15-20 more, but still within the $75-100 price range I expected to pay for leather boots.
The third pair I tried on fit like a charm! The zipper slid up smoothly, both a statement of good quality and also a good fit. The heels – though skinnier than I expected – were high enough to give a super sexy look but low enough to prevent my tripping and breaking my neck. The leather was soft, not stiff, and did not buckle around my ankles giving the appearance of elephant ankles.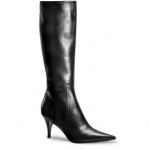 My perfect pair of boots? Kenneth Cole's Reaction Collection: Change of Heart boots. I love them! They are incredibly comfortable. I wear them with jeans, skirts, dresses. I've worn them all day to work conventions and meetings as well as out on dates. The toe appears a little pointy but are not in any way (on me) uncomfortable or pinchy. I purchased my boots at SRI for about $65, which is a steal for Kenneth Cole (shown at left in black).